"Family history is the only history
made or written in Chotank."
Douglas Southall Freeman
Parttime Professor, Columbia University, New York,
Richmond Newspaper Editor with PhD from Johns Hopkins,
Pulitzer Prize Winning Author of George Washington and
Robert E. Lee Biographies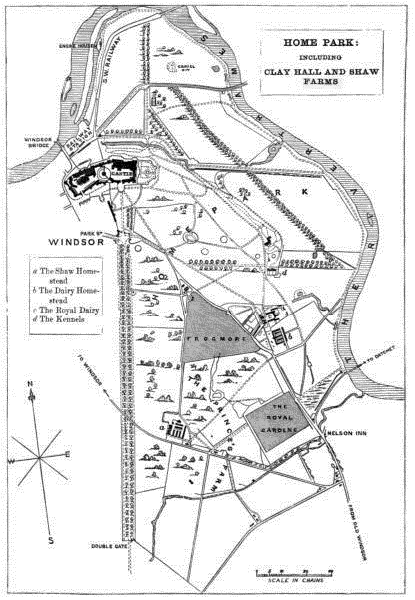 1863 Map from Queen Victoria's Reign Showing
"Clay Hall and Shaw Farms" in Windsor Castle Home Park
The map is page 74 in The Prince Consort's Farms: An Agricultural Memoir by John Chalmers Morton (London, 1863).
The original Clay Hall Farm, that was owned by Samuel Foote/Foot, is the Roman boot-shaped section on bottom right of map.
The open toe part of Farm's foot-shape points down out-of-view to left of scale-in-chains
toward statue of George III, who is portrayed near end of The Long Walk as a Roman riding his horse.
Roman burial remains in British Museum were found at Tyle Place Farm, just below Clay Hall toward Old Windsor.
Fall 2007 GOOGLE satellite photography clearly shows the Roman boot shape of
the recently-ploughed land that was once owned by Topham Foote/Foot's father.
[Walking the Long Walk at Old Windsor in 2006: I first visited Clay Hall Farm in June 2002 when Dottie and I with our granddaughter, Niki Foote of Roanoke, Virginia, took the Windsor double-deck tour bus by the Windsor Farm Shop in the Home Park. The bus route had transversed a large part of the Clay Hall Farm before reaching the fork to Old Windsor where its bearing turned North toward the Park Ranger's Shop at the Royal Gardens. We then went on to Eton via Datchet. In May 2006 I returned to the vicinity of Clay Hall Farm to footstep the Long Walk to the Double Gate separating the Home Park from the Great Park.I was feeling great emotions of "place" attachment to the Clay Hall Farm area only a stone's throw away from my viewing point after I had walked to the nearby fence. These feelings were greatly enhanced by my plans to meet Churchwarden Michael Harding at Windsor Parish Church within a few hours. Harding had invited me to attend a historical society meeting that night in Windsor where Margaret Gilson would talk on "Old Windsor" manors, including Tyle Place Farm. Pamela Marson and the Mayor of the Royal Borough were expected to be on the program. But, I did not know that Harding had also arranged later that afternoon for the ringing of the Church bells to thank me for my family's support of the Parish. The bells would be heard not only within the walls of the Castle but over an even greater distant by the crowds gathering at Frogmore. After checking with Crown Office security during my stroll, my footsteps took a path off the main marked walk going all the way to the boundary of the Great Park at New Meadows. I gazed over the vine-covered fence toward Clay Hall Farm for several minutes. After taking many photos of pastures across the fence I snapped more shots of the review ground that borders the Long Walk. All the while I hummed "Oh let me take you by the hand, and lead you through the streets of London. I'll show you something to make you change your mind." I had never appreciated Roger Whittaker's song
that much as then.
Avon Edward "Eddie" Foote/Foot, 6 October 2007.]

Letter to Horton Foote, playwright of "Dividing the Estate"
that opened on Broadway at Booth Theatre in November 2008,
and Foote/Foot notes featuring links to Chotankers family history or
Jump to St. Dunstan's in the East for Will of Richard Foote,
father of Samuel Foote/Foot and grandfather of Topham Foote/Foot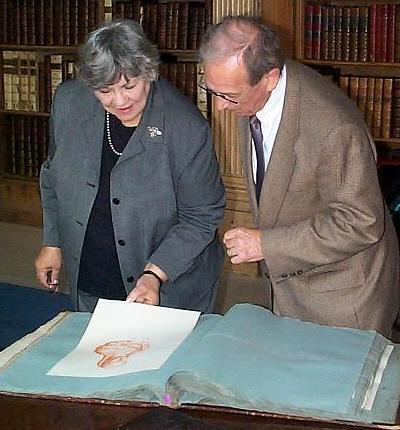 Footes examine Richard Topham Collection at Eton College
Learn More of the Eton Collection
Music from Jill Scott Celebrates
The Home & Great Parks and The Long Walk to Clay Hall Farm at Windsor

CHOTANK TITLE: Jill Scott - A Long Walk




Dr. Dottie SEZ

Jump to new FACEBOOK page for fans of the New Windsor Museum after its Guildhall opening two
doors from St. John the Baptist
after
windsormuseumappeal.org.uk in Spring/Summer 2008 Newsletter released
online announcement by Editor Pamela Marson of Footsteps assistance testing for
Windsor tourists.
or
See Windsor Parish Church archived release by the Foote/Foots on restoration of "The Last Supper"
that His Majesty King George III gave the Church
Up-to-date Map of Clay Hall near Old Windsor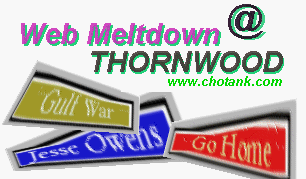 Buttons above in THORNWOOD logo are Clickable


Lori Hemingway, The Crown Estate in London, wrote Avon Edward Foote, 30 November 2005:
" . . . I can confirm that The Crown Estate owns both Tyle Place Farm and
Clay Hall Farm. We have little historic information at The Crown Estate,
but would suggest that any further enquiries should be addressed tothe Librarian at Windsor Castle."
Foote/Foot Note added 6 September 2008: Published Parliamentary documents include a notice of "Purchases made on behalf of Her Majesty" on 31 December 1863 totaling 230 acres "with Manor of
Tyle, alias Tyle Place, situated in Parish of Old Windsor" from "Charles Brown, et al. (Trustees of Mary Isherwood) ". Tighe and Davis, Volume II, page 647, write about the Crown's purchase of the
Keppel Estate in 1843: "The largest parts of this estate lay on the west side of the Long Walk, extending on the north to Park Street, with a farm on the east side, south of Frogmore, called Clay Hall Farm. . . ."



According to The Windsor Guide, page 28, "Richard Topham, Esq. gave by his last will, 1730,
ten shillings a year to each of the four poor persons legally settled in Mr. Reeve's
Alms-Houses, which is now paid out of the estate of Mr. Keppell." 



Chotankers entry in Windsor Library Catalogue, near Windsor Castle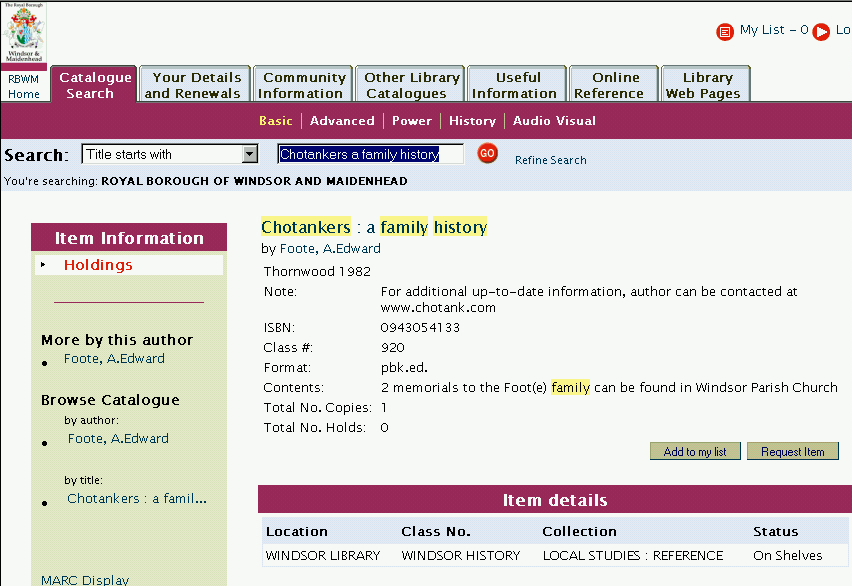 The importance of Richard Topham Collection at Eton College is recognized as pioneering "field" research in online PDF document linked here.See pages 4 and 9 of Acrobat PDF file
for more on Eton and Richard Topham, uncle of Topham Foote/Foot.
---
Reviewed . Revised . Refreshed 14 August 2016
Celebrating 21th Anniversary November 19th